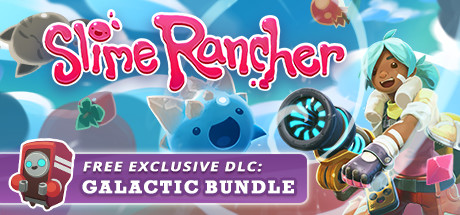 Giới thiệu về Game: Slime Rancher
Short description: Slime Rancher is the tale of Beatrix LeBeau, a plucky, young rancher who sets out for a life a thousand light years away from Earth on the 'Far, Far Range' where she tries her hand at making a living wrangling slimes.
Price: 14.99 USD
Release date: 8/1/2017
Developer: Monomi Park
Publisher: Monomi Park
Platforms: windows;mac;linux
Categories: Single-player;Steam Achievements;Full controller support;Steam Trading Cards;Steam Cloud
Positive ratings: 24205
Negative ratings: 965
Owners: 1000000-2000000
Detailed description:
Just Updated



The Automatic Update is here and introduces a new Slime Science gadget: DRONES! Drones are happy little helper bots that can be programmed to help with various tasks around the ranch!

Read more about Drones here
The Party Gordo Update



Let's get this party started! Every weekend, the Party Gordo comes to the Far, Far Range, but you have to find him first!

Read more about the special weekend events here!
The Little Big Storage Update



The Little Big Storage Update is here to help! Ranch storage is getting a huge upgrade and it's just in time for a little spring cleaning.

Learn more about the new silo upgrades here!
Mochi's Megabucks Update



Mochi's Megabucks Update is here and you've been invited to explore the Nimble Valley: a new zone that is home to the exceedingly rare quicksilver slimes!

Learn more about the Nimble Valley here!
Shop Merchandise
Limited Holiday Event



Celebrate the season with our limited-time Wiggly Wonderland event! Hunt for ornaments and decorate your ranch from December 20 - 31

A new ornament will appear in crates every day, so hurry and collect as many as you can before they're gone!

Read more here
Ogden's Wild Update




Ogden's Wild Update has arrived! Slime Rancher v1.1.0 contains a dangerous, new zone to explore, missions to undertake from Ogden Ortiz, the feral descendants of the long-extinct saber slime, and more!

Discover more about The Wilds and version 1.1.0 here
About the Game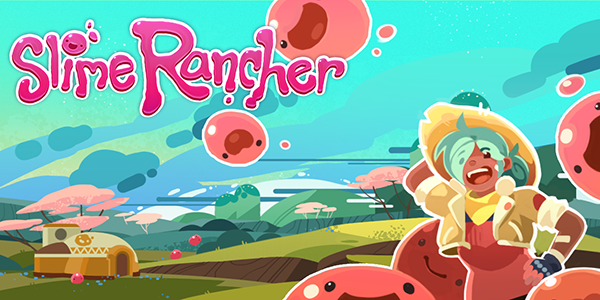 Welcome to the Far, Far Range
Slime Rancher
is a charming, first-person, sandbox experience. Play as Beatrix LeBeau: a plucky, young rancher who sets out for a life a thousand light years away from Earth on the 'Far, Far Range.'
Each day will present new challenges and risky opportunities as you attempt to amass a great fortune in the business of slime ranching. Collect colorful slimes, grow crops, harvest resources, and explore the untamed wilds through the mastery of your all-purpose vacpack.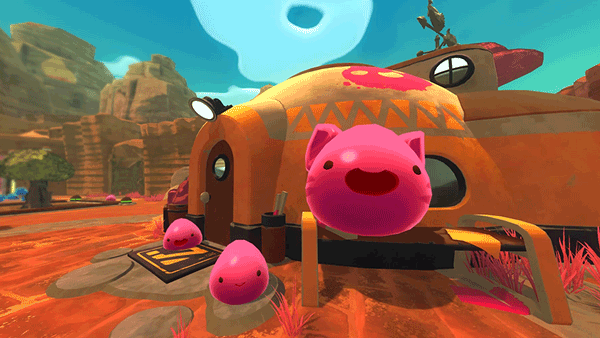 Stake Your Claim
The renowned rancher, Hobson Twillgers, has passed his ranch on to you. Get it back up and running, discover the secrets hidden on this mysterious planet, and dominate the Plort Market.
Grow crops and raise chickadoos to feed your collection of hungry slimes.

Complete daily requests from other ranchers to get bonus rewards.

Earn money to upgrade your vacpack, build more corrals, or expand your ranch.

Use Slime Science to find rare resources, craft decorations, and create gadgets that will help you on your adventures.

Explore a sprawling world loaded with lots of secrets and hidden treasures.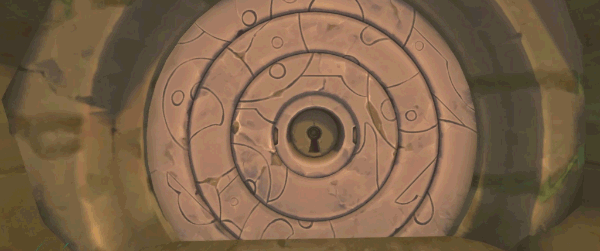 Slimetastic Features:
Choose from 3 game modes: Adventure, Casual, and Rush

Get creative and combine slimes into more than 150 hybrid slimes

Take advantage of our full controller support if you think keyboards should be used to play music instead of games


About the game:

Welcome to the Far, Far Range


Slime Rancher is a charming, first-person, sandbox experience. Play as Beatrix LeBeau: a plucky, young rancher who sets out for a life a thousand light years away from Earth on the 'Far, Far Range.'

Each day will present new challenges and risky opportunities as you attempt to amass a great fortune in the business of slime ranching. Collect colorful slimes, grow crops, harvest resources, and explore the untamed wilds through the mastery of your all-purpose vacpack.



Stake Your Claim

The renowned rancher, Hobson Twillgers, has passed his ranch on to you. Get it back up and running, discover the secrets hidden on this mysterious planet, and dominate the Plort Market.



Grow crops and raise chickadoos to feed your collection of hungry slimes.

Complete daily requests from other ranchers to get bonus rewards.

Earn money to upgrade your vacpack, build more corrals, or expand your ranch.

Use Slime Science to find rare resources, craft decorations, and create gadgets that will help you on your adventures.

Explore a sprawling world loaded with lots of secrets and hidden treasures.







Slimetastic Features:




Choose from 3 game modes: Adventure, Casual, and Rush

Get creative and combine slimes into more than 150 hybrid slimes

Take advantage of our full controller support if you think keyboards should be used to play music instead of games




PC requirements: OS: Windows 7+ Processor: 2.2GHz Dual Core Memory: 4 GB RAM Graphics: 512MB VRAM DirectX: Version 11 Storage: 1 GB available space
-------
Website: http://slimerancher.com
-
+ Xin cảm ơn đối tác Đào tạo điêu khắc chân mày Hairstroke Hồ Chí Minh - www.huongtrabeauty.vn đã hỗ trợ thông tin này