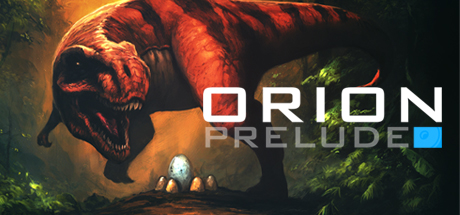 Giới thiệu về Game: ORION: Prelude
Short description: Work together to survive the devastating Dinosaur horde in huge, endless environments.
Price: 0.79 USD
Release date: 4/16/2013
Developer: Spiral Game Studios
Publisher: DANKIE
Platforms: windows
Categories: Single-player;Multi-player;Online Multi-Player;Co-op;Online Co-op;Steam Achievements;Full controller support;Steam Trading Cards;Steam Workshop;Valve Anti-Cheat enabled;Stats;Steam Leaderboards;Includes level editor
Positive ratings: 22057
Negative ratings: 7558
Owners: 2000000-5000000
Detailed description: ORION: Prelude' is an indie Sci-Fi shooter (FPS/TPS) that seamlessly blends together incredible visuals and addictive combat. It puts you and your friends together into intense, cinematic battles using some of the most incredible weaponry and amazing vehicles in which you must work or compete against one another to accomplish mission objectives, explore giant worlds and survive the devastating Dinosaur Horde.

In addition to the return of the adventurous, survival-based cooperative gameplay and retro-inspired Arena Combat, 'ORION: Prelude' features massive, Open World Cooperative and PvPvE.

*Previous version names include ORION: Dino Beatdown (2012) and ORION: Dino Horde (2013).
OFFICIAL ORION DISCORD!
Rewards, Progression & Behind-The-Scenes
https://discord.gg/RykWMpC

Supporting up to a variety of game modes, including:
Survival (Objective)

Slaughter (Duration)

Rampage (Playable Dinosaurs)

Prehistoric (Custom Variable)

Supporting up to 10 players and offering 2 game modes:
Conquest (Cooperative - 5 Players)

Vital (PvPvE - 10 Players)

Supporting up to 10 players and offering 3 cooperative game modes:
Free-For-All (Deathmatch)

Elimination (Stealth)

King of the Hill (Territory)

Gun Game (Ladder Climb)

Instagib (Twitch Reflex)

Vital (Open World)

Supporting up to 10 players and offering 3 unique game modes:
1v1 Duel (4 Playlers - Tournament)

FFA Duel (4 Players - FFA)

Team Duel (5v5)
Key Features:
Open World Gameplay

Cooperative & Competitive Gameplay

Dueling & Melee Combat Gameplay

1st Person / 3rd Person Hybrid Gameplay

15 Game Modes

50+ Weapons & Gear

30 Augmentations (Mutators)

20+ Multiplayer Maps

7 Vehicles

Full Weather System

Persistence & Player Progression (150 Levels)

Class-Based Gameplay & Player Loadouts

Statistics & Leaderboards

Lobbies, Matchmaking & Server Browser

Player Store (Cosmetics)

Rewards & Unlockables

Real-time Dynamic Day/Night Cycles

10 Dinosaurs (All Playable)

250+ Steam Achievements

12 Steam Trading Cards

Steam Big Picture Mode Support

Bots & Offline Play

Tutorial System

SDK & Steam Workshop (Custom Maps)

About the game: ORION: Prelude' is an indie Sci-Fi shooter (FPS/TPS) that seamlessly blends together incredible visuals and addictive combat. It puts you and your friends together into intense, cinematic battles using some of the most incredible weaponry and amazing vehicles in which you must work or compete against one another to accomplish mission objectives, explore giant worlds and survive the devastating Dinosaur Horde.

In addition to the return of the adventurous, survival-based cooperative gameplay and retro-inspired Arena Combat, 'ORION: Prelude' features massive, Open World Cooperative and PvPvE.

*Previous version names include ORION: Dino Beatdown (2012) and ORION: Dino Horde (2013).

OFFICIAL ORION DISCORD!

Rewards, Progression & Behind-The-Scenes
https://discord.gg/RykWMpC


Supporting up to a variety of game modes, including:


Survival (Objective)

Slaughter (Duration)

Rampage (Playable Dinosaurs)

Prehistoric (Custom Variable)



Supporting up to 10 players and offering 2 game modes:


Conquest (Cooperative - 5 Players)

Vital (PvPvE - 10 Players)



Supporting up to 10 players and offering 3 cooperative game modes:


Free-For-All (Deathmatch)

Elimination (Stealth)

King of the Hill (Territory)

Gun Game (Ladder Climb)

Instagib (Twitch Reflex)

Vital (Open World)



Supporting up to 10 players and offering 3 unique game modes:


1v1 Duel (4 Playlers - Tournament)

FFA Duel (4 Players - FFA)

Team Duel (5v5)

Key Features:

Open World Gameplay

Cooperative & Competitive Gameplay

Dueling & Melee Combat Gameplay

1st Person / 3rd Person Hybrid Gameplay

15 Game Modes

50+ Weapons & Gear

30 Augmentations (Mutators)

20+ Multiplayer Maps

7 Vehicles

Full Weather System

Persistence & Player Progression (150 Levels)

Class-Based Gameplay & Player Loadouts

Statistics & Leaderboards

Lobbies, Matchmaking & Server Browser

Player Store (Cosmetics)

Rewards & Unlockables

Real-time Dynamic Day/Night Cycles

10 Dinosaurs (All Playable)

250+ Steam Achievements

12 Steam Trading Cards

Steam Big Picture Mode Support

Bots & Offline Play

Tutorial System

SDK & Steam Workshop (Custom Maps)

PC requirements: OS:Windows Vista SP2 32-Bit Processor:AMD Athlon X2 2.8GHZ / Intel Core 2 Duo 2.4 GHZ Memory:3 GB RAM Graphics:256 MB Graphics Memory (SM3) DirectX®:9.0c Hard Drive:8 GB HD space Sound:DirectX 9 Compatible
-------
Website: 0
-
+ Xin cảm ơn đối tác Đào tạo điêu khắc chân mày Hairstroke Hồ Chí Minh - www.huongtrabeauty.vn đã hỗ trợ thông tin này